Practice Facilities
Driving range
The Vulcan Golf and Country Club has three practice area's that will help  sharpen your game.  The practice putting green is located next to the  clubhouse behind the first tee.  Adjacent to  our maintenance shop we a 100 yard hole with a make shift green with a practice sand trap.  Our driving range is located by the 10th tee.  You have your choice of 5 driving range mats or take advantage of our large grass tee box area.  All yardage signs are GPS marked for perfect accuracy. Enjoy our targets as they enhance your enjoyment of practice.  Practice  will  help you reduce your handicap!
Yearly Pass
Single $125.00
Couple $199.00
Family $249.00 (includes children living at home full time)
Junior $99.00 (18 years and under)
Yearly driving range passes are non-transferable
Small Basket $5.00 –35-40 Balls
Large Basket $10.00 -75- 80 Balls
Prices do not include appropriate Taxes

Hours of Operation
7:00 AM until one hour before sunset or 8:30 PM
Weekly Maintenance
At certain times throughout the week we may have to close range for a short period of time for maintenance.
Location
The driving range is located adjacent to the number 10 tee box.
The putting green is located by the clubhouse.
Click here for our Golf Lessons.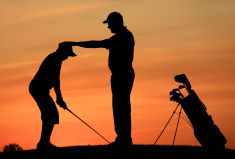 –>